---
In day to day we use many applications where sometimes we may download few files for which a Progress Bar is to be displayed showing the status of the file.Not only file downloading but in several other process which run in background displays a message in terms of a progress bar.

Generally in application startup we see a loading… kind of status which will be loading based on percentage basis.
In this tutorial i am showing you a horizontal progress bar which will look like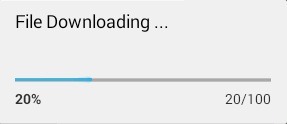 Creating MainActivity.java :
We need to add a button to start downloading process.
Then we need to initialize progress bar
progressBar

=

new

ProgressDialog

(

v

.

getContext

(

)

)

;

progressBar

.

setCancelable

(

true

)

;

progressBar

.

setMessage

(

"File Downloading ..."

)

;

progressBar

.

setProgressStyle

(

ProgressDialog

.

STYLE_HORIZONTAL

)

;

progressBar

.

setProgress

(

0

)

;
Here in next step we will make a step by step increasing of progress bar
1

2

3

4

5

6

7

8

9

10

11

12

13

14

15

16

17

18

19

20

21

22

23

24

25

26

27

28

29

30

31

32

}

else

if

(

level

==

20

)

{

}

else

if

(

level

==

30

)

{

}

else

if

(

level

==

40

)

{

}

else

if

(

level

==

50

)

{

}

else

if

(

level

==

60

)

{

}

else

if

(

level

==

70

)

{

}

else

if

(

level

==

80

)

{

}

else

if

(

level

==

90

)

{
Full Code :
1

2

3

4

5

6

7

8

9

10

11

12

13

14

15

16

17

18

19

20

21

22

23

24

25

26

27

28

29

30

31

32

33

34

35

36

37

38

39

40

41

42

43

44

45

46

47

48

49

50

51

52

53

54

55

56

57

58

59

60

61

62

63

64

65

66

67

68

69

70

71

72

73

74

75

76

77

78

79

80

81

82

83

84

85

86

87

88

89

90

91

92

93

94

95

96

97

98

99

100

101

102

103

104

105

106

107

108

109

110

111

112

113

114

115

116

117

118

119

120

121

122

123

124

125

126

127

128

129

130

131

132

133

134

135

136

137

138

139

140

141

142

143

144

import

android

.

app

.

Activity

;

import

android

.

app

.

AlertDialog

;

import

android

.

app

.

ProgressDialog

;

import

android

.

content

.

DialogInterface

;

import

android

.

os

.

Bundle

;

import

android

.

os

.

Handler

;

import

android

.

widget

.

Button

;

import

android

.

view

.

View

;

import

android

.

view

.

View

.

OnClickListener

;

public

class

MainActivity

extends

Activity

{

ProgressDialog

progressBar

;

private

int

progressBarStatus

=

0

;

private

Handler

progressBarHandler

=

new

Handler

(

)

;

public

void

onCreate

(

Bundle

savedInstanceState

)

{

super

.

onCreate

(

savedInstanceState

)

;

setContentView

(

R

.

layout

.

activity_main

)

;

startDownload

=

(

Button

)

findViewById

(

R

.

id

.

startDownload

)

;

startDownload

.

setOnClickListener

(

new

OnClickListener

(

)

{

public

void

onClick

(

View

v

)

{

progressBar

=

new

ProgressDialog

(

v

.

getContext

(

)

)

;

progressBar

.

setCancelable

(

true

)

;

progressBar

.

setMessage

(

"File Downloading ..."

)

;

progressBar

.

setProgressStyle

(

ProgressDialog

.

STYLE_HORIZONTAL

)

;

progressBar

.

setProgress

(

0

)

;

new

Thread

(

new

Runnable

(

)

{

while

(

progressBarStatus

<

100

)

{

progressBarStatus

=

progresslevel

(

)

;

}

catch

(

InterruptedException

e

)

{

progressBarHandler

.

post

(

new

Runnable

(

)

{

progressBar

.

setProgress

(

progressBarStatus

)

;

if

(

progressBarStatus

>=

100

)

{

}

catch

(

InterruptedException

e

)

{

runOnUiThread

(

new

Runnable

(

)

{

new

AlertDialog

.

Builder

(

MainActivity

.

this

)

.

setTitle

(

"File Download"

)

.

setMessage

(

"File Downloaded Successfully!!!"

)

.

setPositiveButton

(

android

.

R

.

string

.

yes

,

new

DialogInterface

.

OnClickListener

(

)

{

public

void

onClick

(

DialogInterface

dialog

,

int

which

)

{

public

int

progresslevel

(

)

{

}

else

if

(

level

==

20

)

{

}

else

if

(

level

==

30

)

{

}

else

if

(

level

==

40

)

{

}

else

if

(

level

==

50

)

{

}

else

if

(

level

==

60

)

{

}

else

if

(

level

==

70

)

{

}

else

if

(

level

==

80

)

{

}

else

if

(

level

==

90

)

{
Creating activity_main.xml File :
Here is the design layout file where we will add a button
1

2

3

4

5

6

7

8

9

10

11

12

13

14

15

16

17

18

<?

xml

version

=

"1.0"

encoding

=

"utf-8"

?>

<

LinearLayout

xmlns

:

android

=

"http://schemas.android.com/apk/res/android"

android

:

layout_width

=

"match_parent"

android

:

layout_height

=

"match_parent"

android

:

orientation

=

"vertical"

android

:

gravity

=

"center"

>

android

:

id

=

"@+id/startDownload"

android

:

layout_width

=

"250dp"

android

:

layout_height

=

"100dp"

android

:

text

=

"Click to download a file"

/

>
Output :